As we get older, it often becomes more difficult to do the things we always enjoyed. This can make it harder to think of new creative ways to spend quality time with the people in our lives, especially our seniors. It's important to go out of our way to make memories while we still can.
Whether your parent or parents are in assisted living, memory care, or live independently, there are all sorts of options available. Maybe the community they live in has a series of programs available, like those at Parsons House Preston Hollow. If they live alone, there are activities to take up together that can keep a smile on everyone's face.
If you or a loved one are in need of an assisted living community in the Dallas area with a focus on keeping residents happy and comfortable, schedule a tour at Parsons House Preston Hollow today.
So what kind of activities can you do with elderly parents?
1: Plan a Movie Night
One of the easiest ways to spend time with your parents and enjoy yourselves is an easy one: just watch a movie! With access to all sorts of streaming services or DVD-playing devices, it's never been easier to watch a movie or show on a whim.
Try speaking with your parents and see what kind of shows or movies they're interested in lately, and get some snacks!
2: Set up a Game Night
Board games or card games are one of the more casual ways to have a nice night in. There are games and challenges of all varieties, whether you'd prefer a simple game of checkers or a comprehensive complex strategy game.
Some ideas of board games you could bring along are:
Chess
Backgammon
Scrabble
Monopoly
Dominoes
And so many others. Take a look at your local stores and see what's available! While the examples above are simpler in nature, you might be surprised at how complicated some of the newer board games can get.
You can get a deck of cards for cheap as well and try playing one of the following.
Crazy 8's
Solitaire
Rummy
Poker
Bridge
Cribbage
And a ton of other options. Your parents likely know a few games like this, so be careful if they've got a competitive streak!
3: Take up a New Hobby Together
As we age, it can be easy to start becoming stagnant and slow down a little bit, settling into a routine where we don't challenge ourselves too much. By looking into starting a new hobby, you can find something new that holds your interest while still allowing you to spend time with your parents.
Try speaking with them to see if they have any ideas. Maybe there's something they've always wanted to learn to do, and they just need that little nudge to get started. Gardening, woodworking, and painting are all low-stress options that don't need much to get started, and the slow pace will give you a chance to chat and catch up!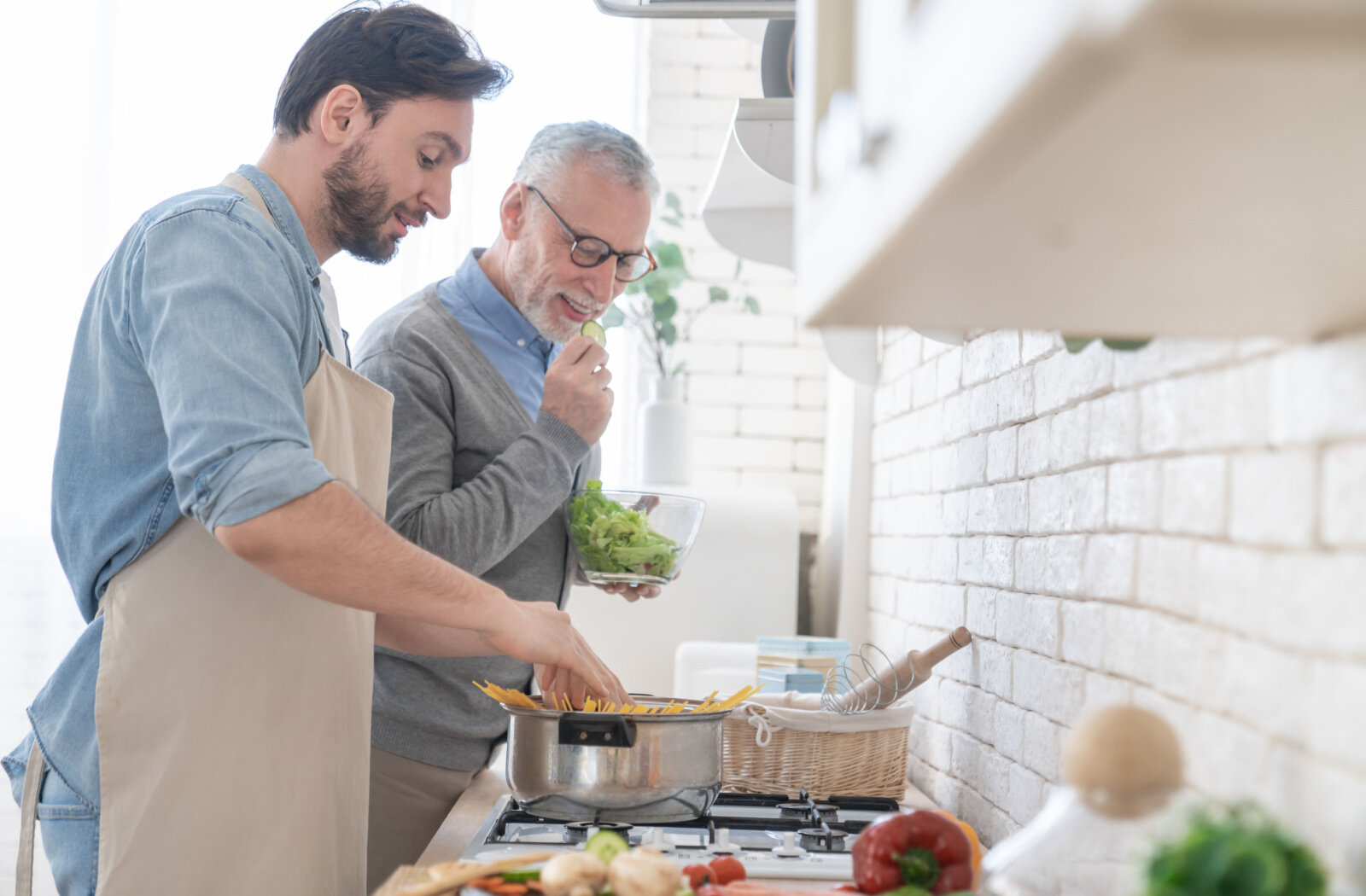 4: Learn New Recipes and Cook Together
Maybe your parents have a recipe they used to make when they were younger or a dish their family used to make when they were kids. Try building up a recipe list of things you both want to try, and get creative! Cooking is more art than science, after all.
Try getting out of your comfort zone and trying recipes from all over the world. With access to dishes and foods from the entire world, you might be surprised at what you find online that can be absolutely delicious.
5: Reminisce and Listen to Stories
As we get older, we tend to spend a lot of time reflecting on things we used to do or people we used to know. Ask your parents about different periods in their lives and relish the memories together.
Try asking about their wedding day, the area they grew up, or their old hobbies and habits. Remember that they've lived their life and are full of stories and memories. By reflecting and reminiscing together, you just might learn something fascinating about your parents.
6: Just Spend Quality Time Together
At the end of the day, the most fun thing to do with your parents is a lot easier to remember than most people think: just spend time with them.
By doing any sort of activities together, you'll be creating a bonding experience that you'll both cherish for the rest of your lives. Even something as simple as playing a card game together can be a fun way to chat, spend quality time together, and realize that your parents are better at cards than you are.
If your parents are in assisted living or a similar community, look into what programs are available for the residents and see if you're able to join in. At Parsons House Preston Hollow, we have all sorts of programs and amenities available for our residents to make sure that they and their loved ones can spend as much quality time together as they want.If you or your parents are in need of assisted living in the Dallas area, schedule a tour today to see for yourself what kind of programs we offer!