A certain degree of memory loss or forgetfulness is typically a normal part of aging—but this shouldn't be confused with a disease like Alzheimer's, which would usually result in much more than simple forgetfulness. To help offset or improve this age-related forgetfulness in an aging adult, some games and activities can help keep the mind sharp.
Classic word and board games, jigsaw puzzles, sudoku, and an online program called Lumosity could all be great options. Plus, many of these activities have a social element to them, giving residents a chance to build healthy social connections.
It's important to note that these games and activities aren't a one-size-fits-all answer. For example, if a senior can't stand doing crossword puzzles or playing Scrabble—word games may not be a good fit. And memory games aren't a magic cure to prevent memory loss. But if a senior can have a great time with friends and family, and have a chance at keeping their mind sharp, what is there to lose?
Benefits of Memory Games for Seniors
There is mixed scientific review on how exactly memory games benefit seniors. Some studies showed marked improvement in cognitive function in seniors with early and mid-stage dementia. But others found that memory games didn't offer much additional improvement compared to other control interventions.
Nonetheless, the supporting evidence showed that some memory games improved a variety of cognitive functions in seniors with dementia:
Short-term memory
Reaction time
Logical reasoning
Problem-solving
Communication
Top 5 Memory Games for Seniors
We do know that certain games or activities stimulate the brain more than others. So, rather than searching for a one-size answer, let's explore some of those memory games that can help stimulate a senior's mind in positive ways.
Lumosity
Much of the world we live in today revolves around the internet and online applications. But a major benefit of this is the fact that there are so many educational and helpful games and activities. One that stands out is called Lumosity.
This website features different games and activities to improve specific areas, such as language, memory, problem-solving, and others. There is even a free trial that you can try to see if a digital resource like Lumosity is a good fit.
Word Games
Word games or puzzles are a particular type of activity that focuses on words and language. A 2015 study found that playing these word games could lead to improvements in a senior's verbal learning and memory.
There is no shortage of word games to try:
Scrabble
Crossword puzzles
Word searches
Mad Libs
Sudoku
Sudoku is a classic number puzzle with varying levels of difficulty. Similar to the review on memory games above, studies on the cognitive benefits of sudoku were not concrete. But data from the Victoria Longitudinal Study suggest that pursuing games like sudoku, especially when they become more challenging because of cognitive decline, could help slow that decline.
Jigsaw Puzzles
Jigsaw puzzles are a fantastic way to keep a senior's mind active. They are great for memory and reasoning skills, as well as hand-eye coordination. The more complex the puzzle, the more these skills are used.
One great thing about puzzles is that there is a lot of variety, from simple puzzles to complex 3D jigsaw sculptures. So, depending on where a seniors cognitive function is at, there is likely a puzzle they can complete. The ability to complete a puzzle and see the finished result can be a great self esteem booster too.
Board Games
Many board games provide mental stimulation and engagement that can aid in keeping older minds young. A significant benefit of most board games is the opportunity they give for social connections between residents in a senior living community.
Some good options to check out might include:
Trivial Pursuit
Risk
Chess
Checkers
Clue
Settlers of Catan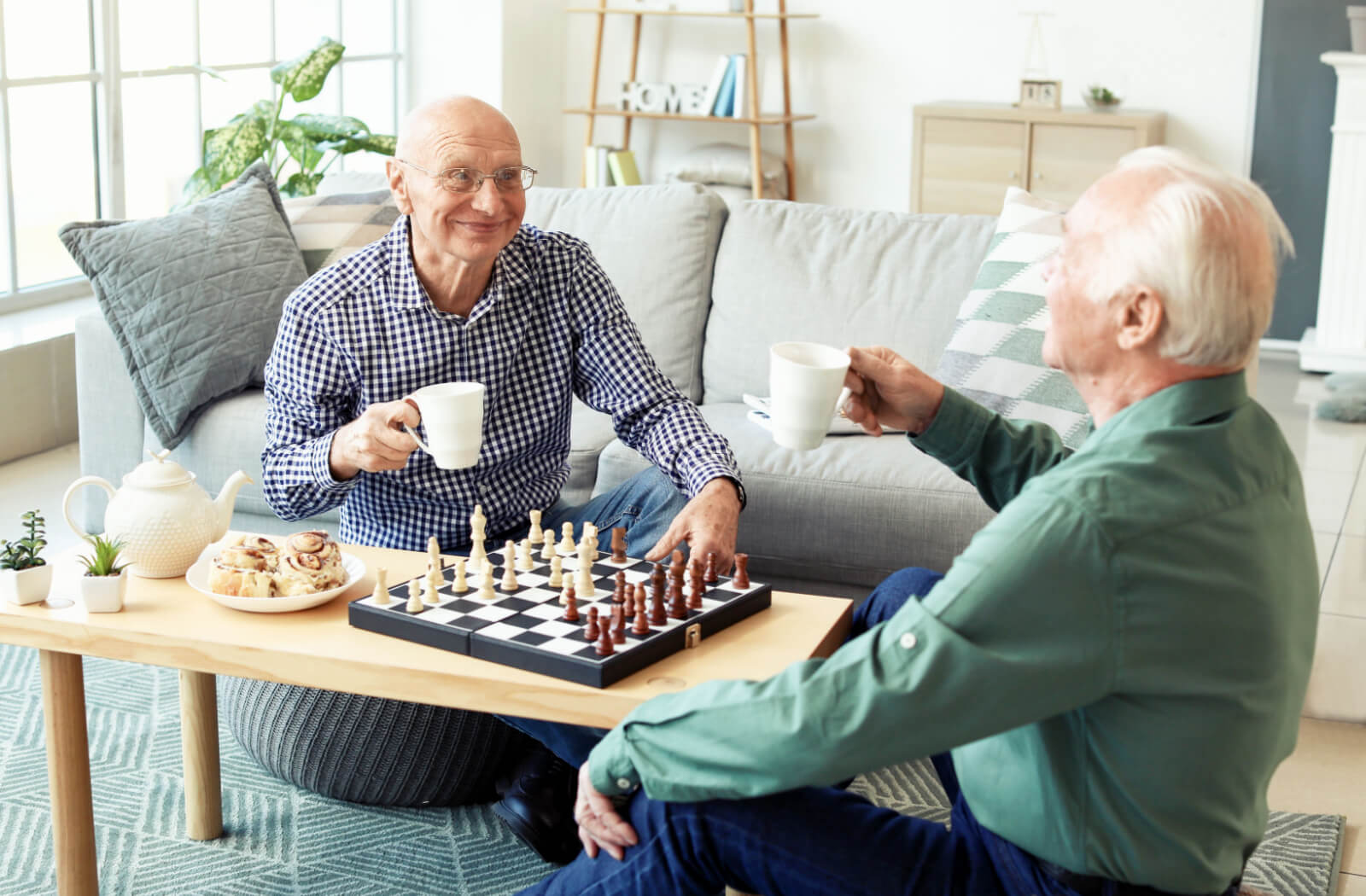 Other Beneficial Activities for Seniors
Based on the studies we reviewed, it's fair to say that memory games and activities may be beneficial in improving cognitive function or slowing its decline. But there are additional activities that can be beneficial to a senior's mental health and general well being too:
Physical Activity
The CDC recommends a few things regarding physical activity for older adults. Ideally, a senior should get 75 to 150 minutes of activity weekly, depending on intensity. And they should include muscle building and balance development activities at least 2 times weekly. It's important to note that these are guidelines and some seniors may need more or less activity based on their abilities.
Learning a New Skill
Fun and games are great but these aren't the only ways to keep an aging mind sharp. A study done by the Association for Psychological Science indicates that learning a new, demanding skill may actually have more cognitive benefit than simply doing a familiar activity. A couple of examples they give are digital photography or quilting, but the idea is to do something unfamiliar and mentally challenging.
Connect with a Community That Supports Healthy Aging
There isn't a one-size answer for how to keep our minds and bodies healthy. That's why it's so important to surround yourself with people who can support you along the way. Whether this is aging in place at home or retiring to an independent living community, the need is the same.If you or a loved one is considering retirement in the Dallas area, give the team at Parsons House Preston Hollow a call. We're happy to answer your questions about life in our community and book you a community tour.